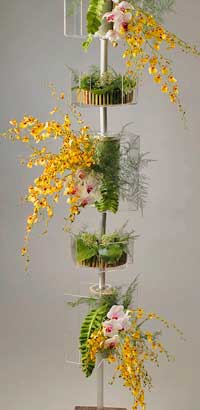 CORPORATE ACCOUNTS
Whatever your business, flowers make an excellent first impression. They make a statement to your clients, reflecting your standards.

Using a weekly flowers delivery, create a visible

welcome

and

ambience

with an edgy flair.
• for constant variety in design, containers and vases change every week
•

accounts begin with a complimentary on site consultation



Flowers with character are an excellent communication tool. Whether to say "

Thank You

" to a business associate, a client or "

Congratulations

" to an employee, they deliver the right message and are the perfect gift:
personal, without being intrusive and also professional, without being too distant.



USE THE CONTACT PAGE / CALL (914) 565 9990 to schedule a free onsite
consultation / request a quote, you can also CLICK on the green leaf to send a form